22 February 2021
For immediate release
Image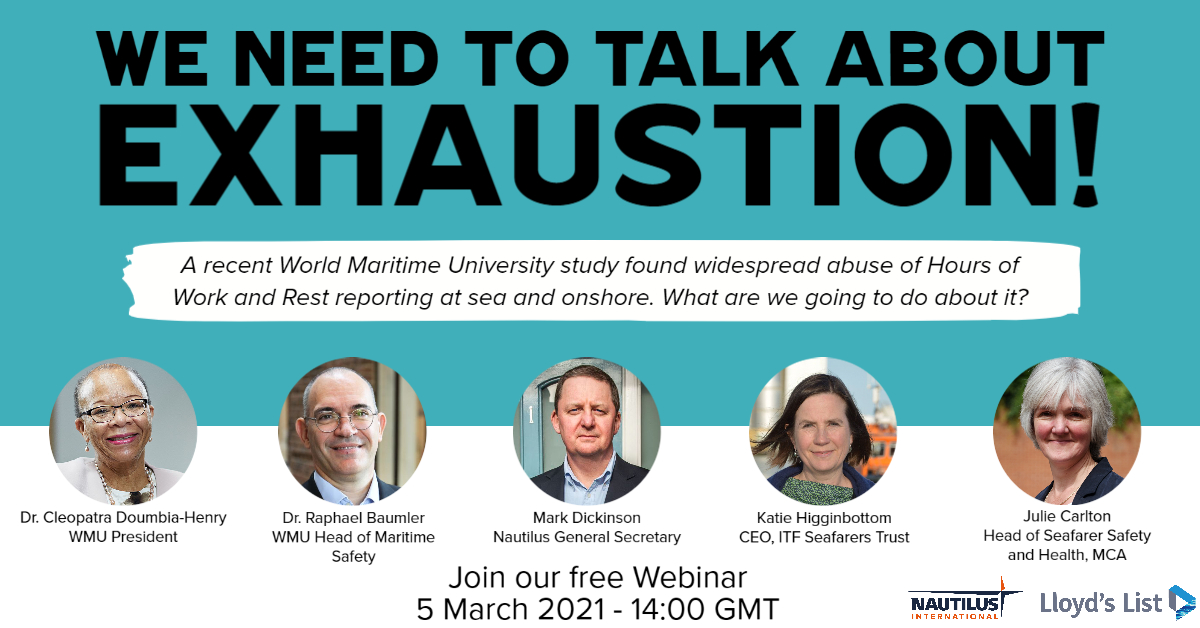 Event date: Friday 5 March 2021
Time: 14:00 GMT
Registration: Click here
The risks of exhaustion at sea and the widespread abuse of Hours of Work and Rest will be discussed by a high-profile panel of experts from World Maritime University, the UK Maritime and Coastguard Agency, Nautilus International and the ITF Seafarers Trust at a webinar jointly hosted by Nautilus International and trade journal Lloyd's List.
The webinar, 'We need to talk about exhaustion' follows the publication of a 'A culture of adjustment' by the World Maritime University, funded by the ITF Seafarers' Trust, which exposed 'widespread malpractices' in hours of work reporting, which could lead to serious casualties, loss of life and environmental damage. The report exposes the impossibility of compliance with regulation that causes seafarers and inspectors alike to collude in an adjustment to suit the rules rather than reflect the realities on board. Given that the research was undertaken prior to the Covid-19 pandemic the potential for even greater fatigue and exhaustion at sea is highly likely given the ongoing restrictions on crew change.
The online event will focus on lessons learned from the report and what steps can be taken to improve the system.
The 90-minute webinar will take place on Friday 5 March 2021 at 14:00 GMT.
The event will be moderated by Lloyd's List chief correspondent Richard Clayton and the speakers include:
Mark Dickinson, General Secretary of Nautilus International

Dr. Cleopatra Doumbia-Henry, President of the World Maritime University

Professor Raphael Baumler, Head of Maritime Safety and Environmental Administration at the World Maritime University

Katie Higginbottom, Chief Executive of ITF Seafarers Trust

Julie Carlton, Head of Seafarer Safety and Health, UK Seafarer Services, MCA
Click here to register for the event.
Download the full WMU report here.

ENDS
For further information please contact:
Katie Higginbottom, Head of the ITF Seafarers' Trust, email: katie@seafarerstrust.org Tel: +44 (0)7909 806647
Note to editors
The ITF Seafarers Trust is a UK charity established in 1981, funds programmes that advance the wellbeing of maritime workers, seafarers and their families. We are funded by the Trust's own capital funds, and by the investment income of the Welfare Fund at the International Transport Workers Federation, a global federation of transport workers' unions representing close to 20 million workers worldwide.
More information visit:
Facebook @ITFtrust
Twitter @Seafarers_Trust